It is still a wonder to me how New York & Elizabeth Peyton could give birth to her paintings. The Eighties, a time when Peyton was a student at the School of Visual Arts in New York, living in the lower east side, were going one way when she was growing in the other. Eighties were stoned with punk 'thinking' – remember The Sex Pistols, the Queen and its fascist regime, Kurt Corbain's intransigences, or the crude words of Rap. An era when people felt no limit, until the far away horizon suddenly and sadly encountered a short sighted future with too many drugs, too much HIV, too much too-much. How could a portraitist be born in this season of no-time to pause for a face?
Elizabeth Peyton did it her own way, bringing, in her small-format oil paintings, drawings and watercolors, a vibrant colorful palette to serve her delicate way of looking at her models. On her list, people who appeal to her, or have impressed her as historical fi gures appear: friends, artists, acquaintances and celebrities. "I think about how infl uential some people are in others' lives. So it doesn't matter who they are or how famous they are, but rather how beautiful is the way they live their lives and how inspiring they are for others" stated the artist in 1996 in an interview with Francesco Bonami. For Peyton, a portrait seems to be something of a journey: to be accomplished it requires pure veneration, passion, fusion. This is probably why her work is such an emotional experience.
– Orso di Pozzo
Ghost Works on Paper Elizabeth Peyton, Texts by Hilton Als, Sabine Ekmann, interview with the artist by Beate Kemfert Catje Hantze, 58€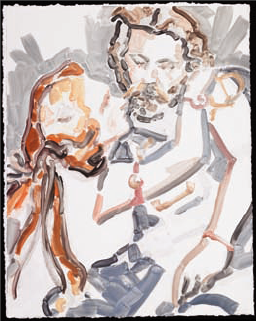 Right: Elisabeth Peyton Giant, Tristan and Isolde (Ludwig ans Malvina Schnorr Von Carolsfeld, 1855) #3, 2010. Monotype on hadmade paper, 38 3/4 x 30 1/2 in.
Left: Elisabeth Peyton Pete and Carl, 2004. Monotype on handmade paper, 47 x 34 in.